So S-CHOice® is our high-performing proprietary cell line development platform which CHO-K1 cells, with GS knock-out system.
This development platform incorporates the latest technology including the Beacon™ system, to ensure the highest accuracies and accelerated timelines.
Commercial terms are competitive, with no revenue based royalties.
Our platform utilizes state-of-the-art equipment and technology, deep experience and technical knowledge to ensure the delivery of top-quality medicine in record breaking time.
With right-first-time and proven experience, we have been able to redefine the actual speed to delivery of medicine and biologics.
The best choice to start your therapeutics development journey
At Samsung Biologics, we understand the importance of optimal cell line development in the successful navigation of clinical trials and challenging regulatory approval process. With our deep expertise and commitment to excellence, we help you reduce time to market and keep costs low, all while achieving the best possible outcomes for your journey.


High-performing CHO-K1-based cell line development platform
Samsung Biologics' Cell Line Development service offers clients a cell line process that combines world-class technology, a strategic mindset, and a collaborative spirit to deliver maximized titers and enhanced cell viability.

S-CHOice® builds on glutamine synthase (GS) knock-out Chinese hamster ovary (CHO) cell line technology and shows improved titers reaching above 7 g/L for standard monoclonal antibodies. The cell line also shows enhanced viability with over 90% at day-21 in a fed-batch study.
Performance Data
*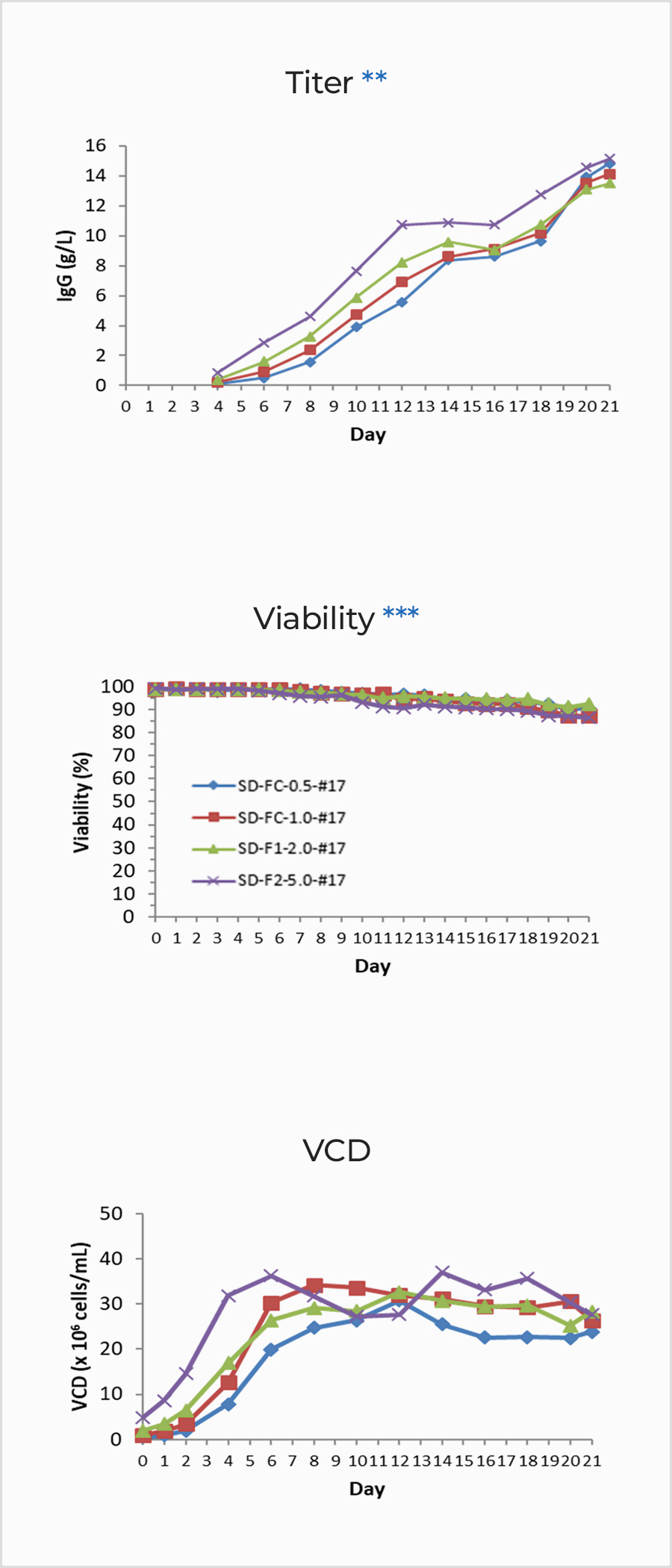 * Upstream Process Optimization
** Delivers high productivity with 7+g/L titer
*** Maintains > 90% cell viability through Day 21
Single Cell Cloning with Beacon

®

-

Screen the right cells

with precision
Efficient screening of a large number of cells and increasing the chances of identifying high-yield/high-quality cell lines are essential for high throughput. While selecting the handful of cells that are most important can take 2-3 months of intensive and expensive manual manipulation. Enhanced by the innovative Beacon® platform, we develop high-yield/ high-quality cell lines within a shorter timeframe.


Fully automated live cell isolation, selection, and screening in nanopens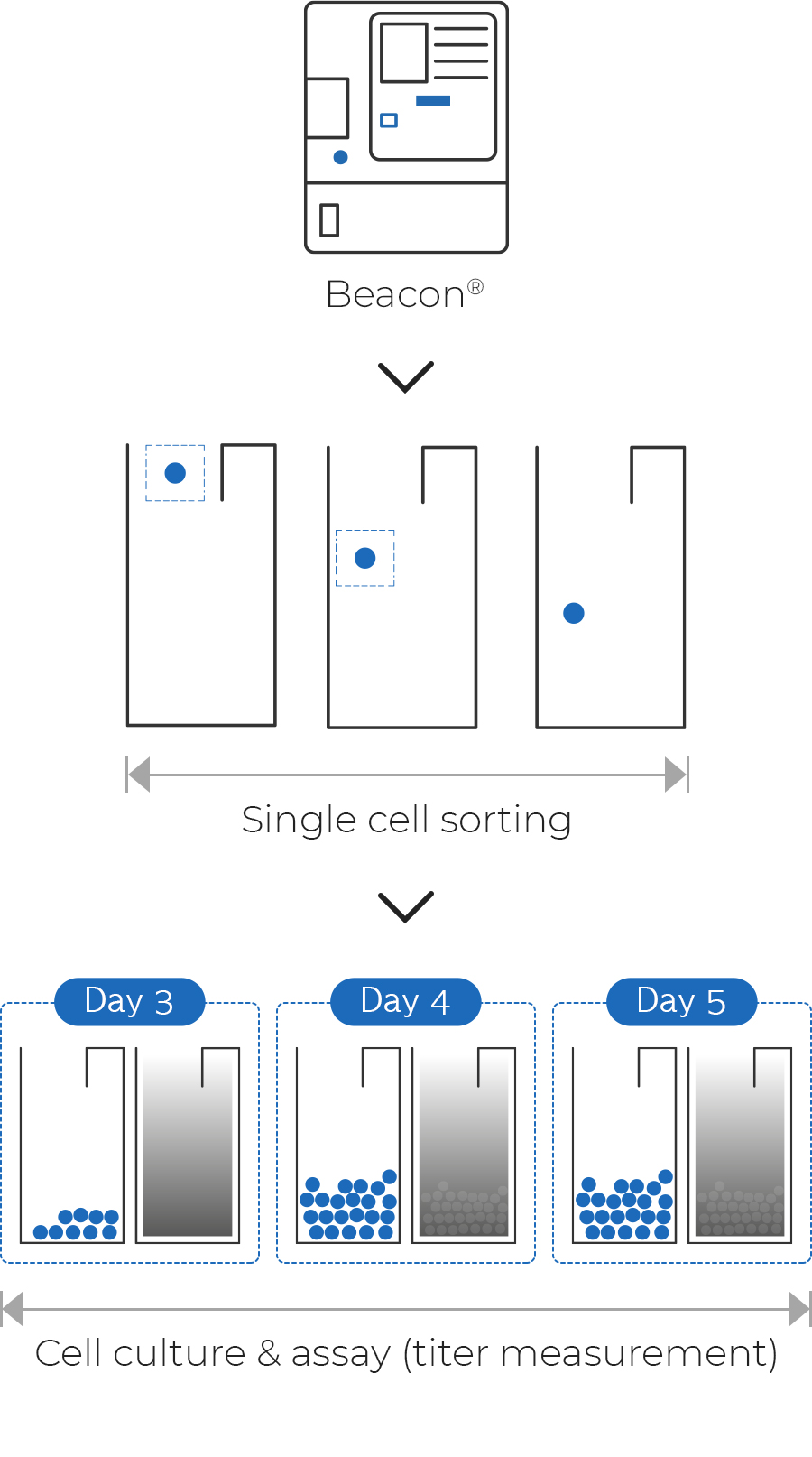 Screen 5,000 individual cells to find the best secretors
Efficient down selection on unstable clones
Automated monoclonality process with visual record at > 99%
Beacon is a registered trademark of Berkeley Lights, Inc.


Secure quality material provision through transient expression
Samsung Biologics' proprietary transient gene expressions (TGE) platform, S-CHOsient™ brings optimized solutions to S-CHOice® in generating higher titer and quality during the early development phase.

Utilize the same host cell line with S-CHOsient™ and experience seamless continuity throughout your development journey.
close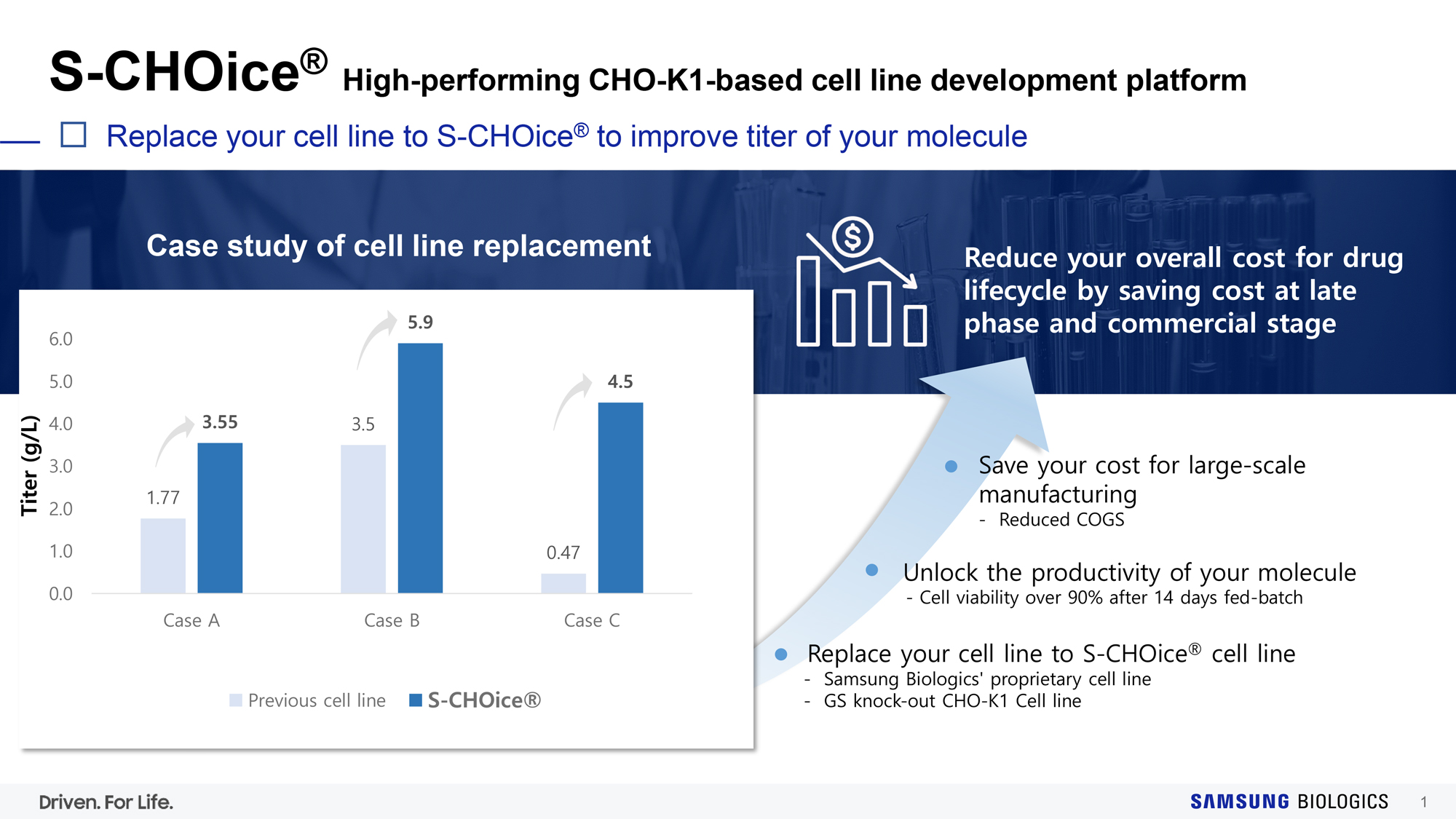 S-CHOice® High-performing CHO-K1-based cell line development platform
Replace your cell line to S-CHOiceR to improve titer of your molecule
Case study of cell line replacement - Case A

previous cell line : 1.77 Titer(g/L)
S-CHOice® : 3.55 Titer(g/L)
Case study of cell line replacement - Case B

previous cell line : 3.5 Titer(g/L)
S-CHOice® : 5.9 Titer(g/L)
Case study of cell line replacement - Case C

previous cell line : 0.47 Titer(g/L)
S-CHOice® : 4.5 Titer(g/L)
Reduce your overall cost for drug lifecycle by saving cost at late phase and commercial stage
Save your cost for large-scale manufacturing - Reduced COGS
Unlock the productivity of your molecule - Cell viability over 90% after 14 days fed-batch
Replace your cell line to S-CHOiceR cell line - Samsung Biologics' proprietary cell line - GS knock-out CHO-K1 Cell line
close
close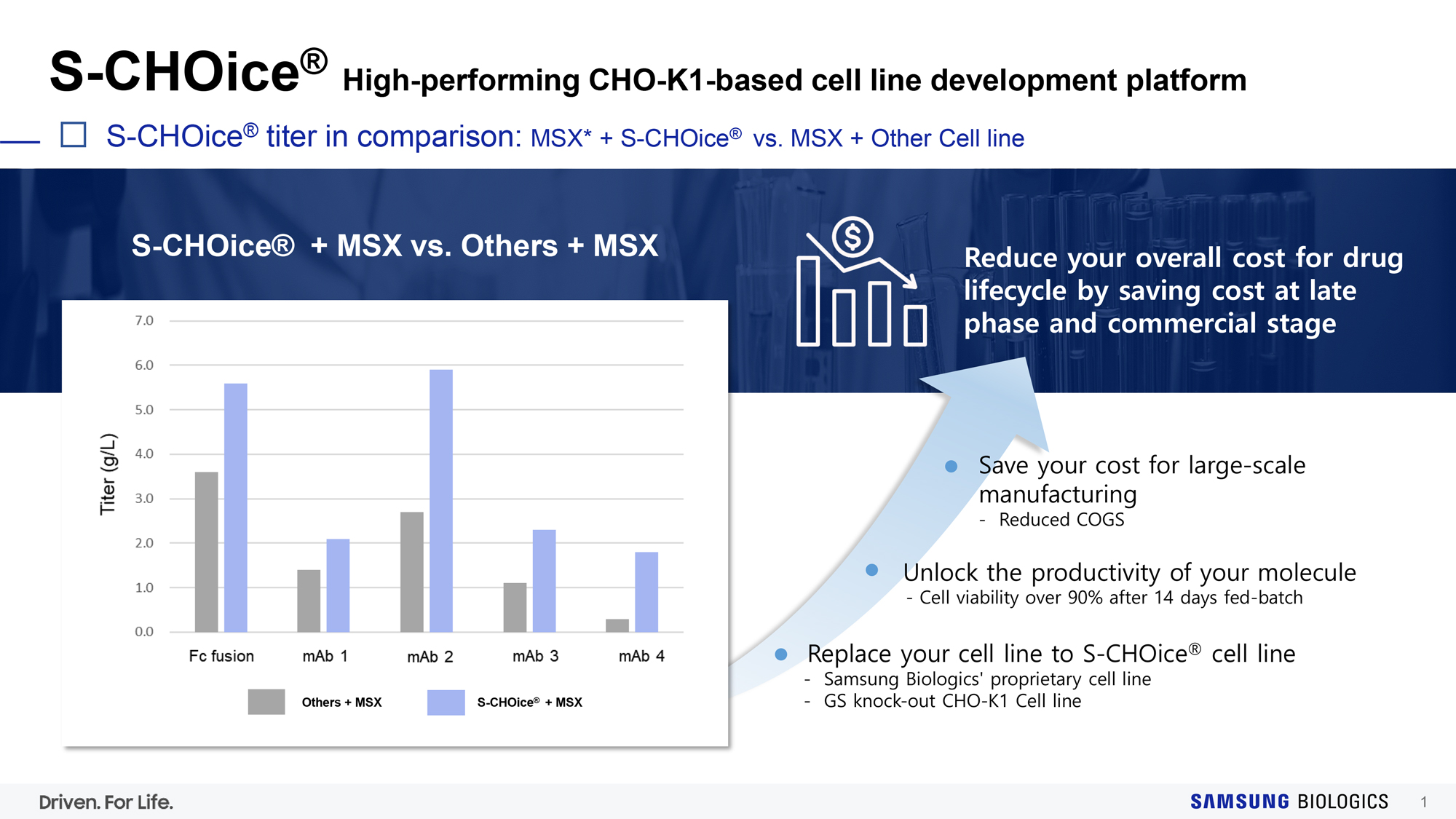 S-CHOice® High-performing CHO-K1-based cell line development platform
S-CHOIceR titer in comparison: MSX* + S-CHOice® vs. MSX + Other Cell line
S-CHOIce® + MSX vs. Others + MSX - Fc fusion

Others + MSX : 4.7 Titer(g/L)
S-CHOice® + MSX : 5.65 Titer(g/L)
S-CHOIce® + MSX vs. Others + MSX - mAb 1

Others + MSX : 1.5 Titer(g/L)
S-CHOice® + MSX : 2.1 Titer(g/L)
S-CHOIce® + MSX vs. Others + MSX - mAb 2

Others + MSX : 2.8 Titer(g/L)
S-CHOice® + MSX : 5.9 Titer(g/L)
S-CHOIce® + MSX vs. Others + MSX - mAb 3

Others + MSX : 1.1 Titer(g/L)
S-CHOice® + MSX : 2.2 Titer(g/L)
S-CHOIce® + MSX vs. Others + MSX - mAb 4

Others + MSX : 0.3 Titer(g/L)
S-CHOice® + MSX : 1.8 Titer(g/L)
Reduce your overall cost for drug lifecycle by saving cost at late phase and commercial stage
Save your cost for large-scale manufacturing - Reduced COGS
Unlock the productivity of your molecule - Cell viability over 90% after 14 days fed-batch
Replace your cell line to S-CHOiceR cell line - Samsung Biologics' proprietary cell line - GS knock-out CHO-K1 Cell line
close
close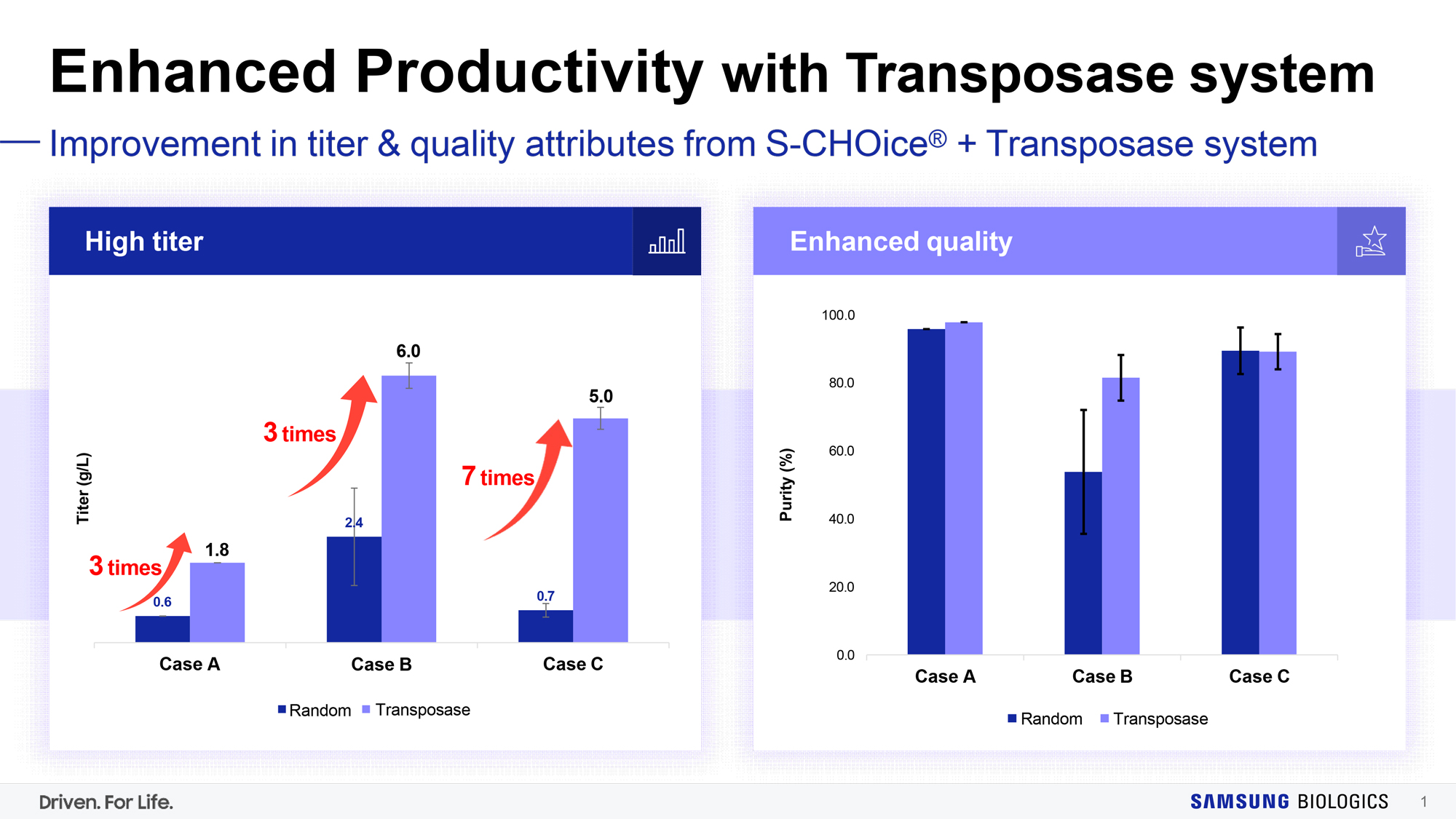 Enhanced Productivity with Transposase system
Improvement in titer & quality attributes from S-CHOice + Transposase system
High titer

Case A

Titer (g/l)

3times

Random : 0.6

Transposase : 1.8

Case B

Titer (g/l)

3times

Random : 2.4

Transposase : 6.0

Case C

Titer (g/l)

7times

Random : 0.7

Transposase : 5.0

Enhanced quality

The data regarding purity quality has been improved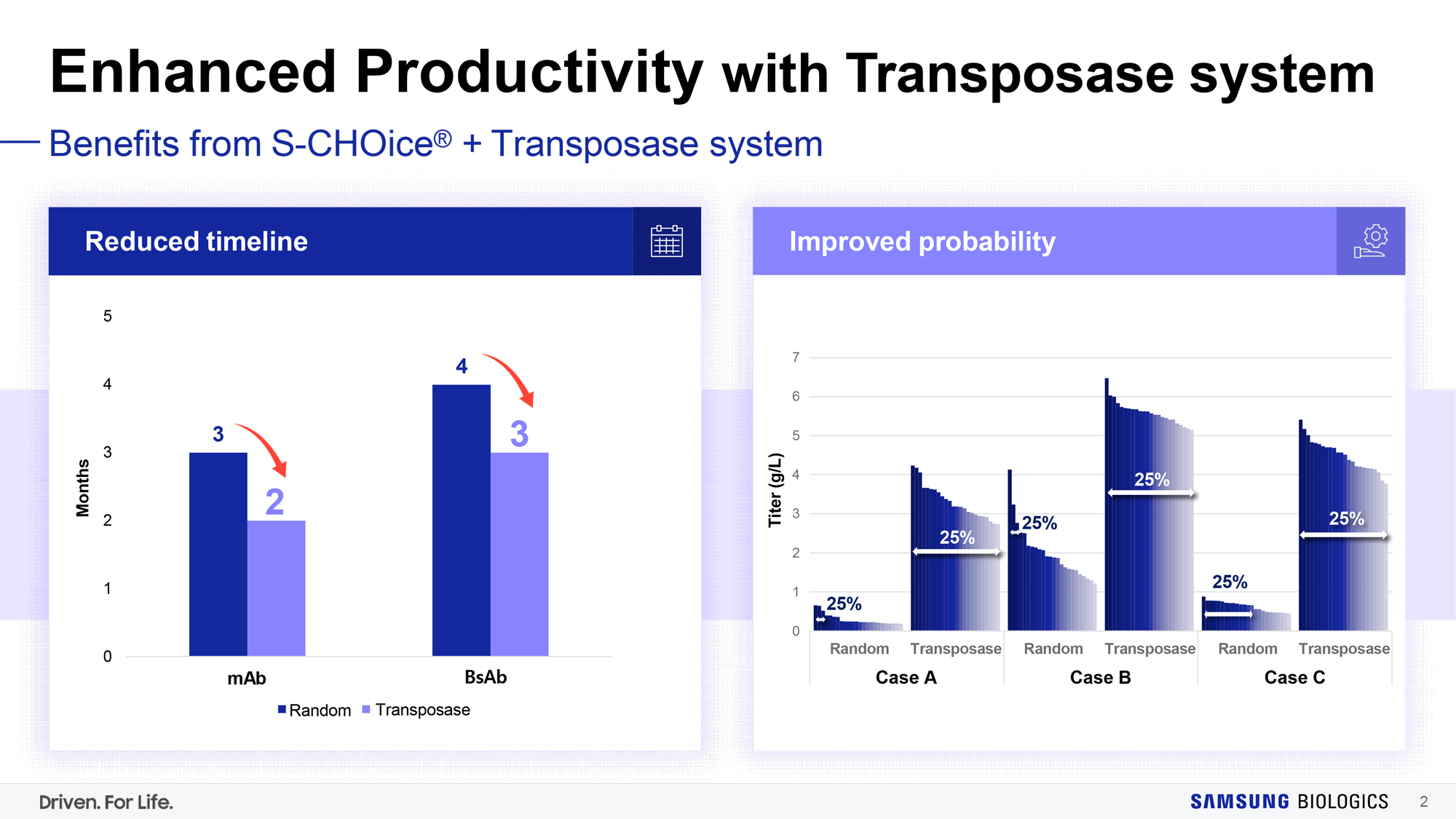 Enhanced Productivity with Transposase system
Benefits from S-CHOice + Transposase system
Reduced timeline

mAb

Months

Random : 3

Transposase : 2

BsAb

Months

Random : 4

Transposase : 3

Improved probability

The strong bias toward high-productivity clones is showing an improvement in probability
close